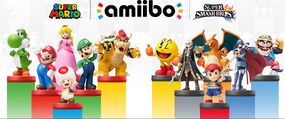 This is a complete list of amiibo figures. Multiple series of amiibo are available. Each series is divided into waves. Please note that the waves and release dates are those of the North American release. For international information, look on the individual pages.
Key/Legend
For simplicity purposes, we will use abbreviations for the names of compatible games.
amiibo × Super Smash Bros.
Wave 1 (November 21, 2014)
| № | Image | Name | Games compatible |
| --- | --- | --- | --- |
| 1 | | Mario (Super Smash Bros.) | ACASL+, ATNGB, CRZL, CTTT, GM3, HW/HWL, KPR, MK8, MLPJ, MTUS, MP10, OPSGB, SMM, SSB, YWW |
| 2 | | Peach (Super Smash Bros.) | ACASL+, ATNGB, CRZL, CTTT, GM3, HW/HWL, KPR, MK8, MLPJ, MP10, MTUS, SMM, SSB, YWW |
| 3 | | Yoshi (Super Smash Bros.) | ATNGB, CRZL, CTTT, GM3, HW/HWL, MK8, MLPJ, MP10, OPSGB, SMM, SSB, YWW |
| 4 | | Donkey Kong | ACASL+, ATNGB, CRZL, CTTT, GM3, HW/HWL, MK8, MP10, MTUS, OPSGB, SMM, SSB, YWW |
| 5 | | Link | ACASL+, ATNGB, CRZL, CTTT, GM3, HW/HWL, KPR, MK8, MP10, OPSGB, SMM, SSB, TLZTPHD, YWW |
| 6 | | Fox | ACASL+, ATNGB, CRZL, CTTT, GM3, HW/HWL, MK8, MP10, OPSGB, SFZ, SMM, SSB, YWW |
| 7 | | Samus | ACASL+, ATNGB, CRZL, CTTT, GM3, HW/HWL, MK8, MP10, OPSGB, SMM, SSB, YWW |
| 8 | | Wii Fit Trainer | ATNGB, CRZL, CTTT, GM3, HW/HWL, MP10, OPSGB, SMM, SSB, YWW |
| 9 | | Villager | ACHHD, ATNGB, CRZL, CTTT, GM3, HW/HWL, MK8, MP10, SMM, SSB, YWW |
| 10 | | Pikachu | ATNGB, CRZL, CTTT, GM3, HW/HWL, MP10, SMM, SSB, YWW |
| 11 | | Kirby (Super Smash Bros.) | ATNGB, CRZL, CTTT, GM3, HW/HWL, KRC, KPR, MK8, MP10, OPSGB, SMM, SSB, YWW |
| 12 | | Marth | ATNGB, CNS, CRZL, CTTT, FEF, GM3, HW/HWL, MP10, OPSGB, SMM, SSB, YWW |
Wave 2 (December 2014)
| № | Image | Name | Games compatible |
| --- | --- | --- | --- |
| 13 | | Zelda | ACASL+, ATNGB, CRZL, CTTT, GM3, HW/HWL, MP10, SMM, SSB, TLZTPHD, YWW |
| 14 | | Diddy Kong | ATNGB, CRZL, CTTT, GM3, HW/HWL, MP10, SMM, SSB, YWW |
| 15 | | Luigi (Super Smash Bros.) | ACASL+, ATNGB, CRZL, CTTT, GM3, HW/HWL, MK8, MLPJ, MP10, MTUS, OPSGB, SMM, SSB, YWW |
| 16 | | Little Mac | ATNGB, CRZL, CTTT, GM3, HW/HWL, MP10, SMM, SSB, YWW |
| 17 | | Pit | ATNGB, CRZL, CTTT, GM3, HW/HWL, MK8, MP10, SMM, SSB, YWW |
| 18 | | Captain Falcon | ACASL+, ATNGB, CRZL, CTTT, GM3, HW/HWL, MK8, MP10, SMM, SSB, YWW |
Wave 3 (February 2015)
| № | Image | Name | Games compatible |
| --- | --- | --- | --- |
| 19 | | Rosalina | ATNGB, CRZL, CTTT, GM3, HW/HWL, MK8, MP10, MTUS, SMM, SSB, YWW |
| 20 | | Bowser (Super Smash Bros.) | ACASL+, ATNGB, CRZL, CTTT, GM3, HW/HWL, MK8, MLPJ, MP10, MTUS, SMM, SSB, YWW |
| 21 | | Lucario | ATNGB, CRZL, CTTT, GM3, HW/HWL, MP10, SMM, SSB, YWW |
| 22 | | Toon Link | ACASL+, CRZL, CTTT, GM3, HW/HWL, MK8, MP10, SMM, SSB, TLZTPHD, YWW |
| 23 | | Sheik | ATNGB, CRZL, CTTT, GM3, HW/HWL, MP10, SMM, SSB, TLZTPHD, YWW |
| 24 | | Ike | ATNGB, CNS, CRZL, CTTT, FEF, GM3, HW/HWL, MP10, SMM, SSB, YWW |
| 25 | | Shulk | ATNGB, CRZL, CTTT, GM3, HW/HWL, MP10, SMM, SSB, XC3D, YWW |
| 26 | | Sonic | ATNGB, CRZL, CTTT, GM3, HW/HWL, MK8, MP10, SMM, SSB, YWW |
| 27 | | Mega Man | ATNGB, CRZL, CTTT, GM3, HW/HWL, MK8, MMLC, MP10, SMM, SSB, YWW |
| 28 | | King Dedede (Super Smash Bros.) | ATNGB, CRZL, CTTT, GM3, HW/HWL, KRC, MP10, SMM, SSB, YWW |
| 29 | | Meta Knight (Super Smash Bros.) | ATNGB, CRZL, CTTT, GM3, HW/HWL, KRC, MP10, SMM, SSB, YWW |
Wave 4 (May 29, 2015)
| № | Image | Name | Games compatible |
| --- | --- | --- | --- |
| 30 | | Robin | ATNGB, CNS, CRZL, CTTT, FEF, GM3, HW/HWL, MP10, SMM, SSB, YWW |
| 31 | | Lucina | ATNGB, CNS, CRZL, CTTT, FEF, GM3, HW/HWL, MP10, SMM, SSB, YWW |
| 32 | | Wario | ATNGB, CRZL, CTTT, GM3, HW/HWL, MK8, MP10, MTUS, SMM, SSB, YWW |
| 33 | | Charizard | ATNGB, CRZL, CTTT, GM3, HW/HWL, MP10, SMM, SSB, YWW |
| 34 | | Ness | ATNGB, CRZL, CTTT, GM3, HW/HWL, MP10, SMM, SSB, YWW |
| 35 | | Pac-Man | ACASL+, ATNGB, CRZL, CTTT, GM3, HW/HWL, MK8, MP10, SMM, SSB, YWW |
| 36 | | Greninja | ATNGB, CRZL, CTTT, GM3, HW/HWL, MP10, SMM, SSB, YWW |
| 37 | | Jigglypuff | ATNGB, CRZL, CTTT, GM3, HW/HWL, MP10, SMM, SSB, YWW |
Wave 5 (July 2015)
| № | Image | Name | Games compatible |
| --- | --- | --- | --- |
| 38 | | Palutena | ATNGB, CRZL, CTTT, GM3, HW/HWL, MP10, SMM, SSB, YWW |
| 39 | | Dark Pit | ATNGB, CRZL, CTTT, GM3, HW/HWL, MP10, SMM, SSB, YWW |
Wave 6 (September 2015)
| № | Image | Name | Games compatible |
| --- | --- | --- | --- |
| 40 | | Zero Suit Samus | ATNGB, CRZL, CTTT, GM3, HW/HWL, MP10, SMM, SSB, YWW |
| 41 | | Ganondorf | ATNGB, CRZL, CTTT, GM3, HW/HWL, MP10, SMM, SSB, TLZTPHD, YWW |
| 42 | | Dr. Mario | ATNGB, CRZL, CTTT, GM3, HW/HWL, MLPJ, MP10, SMM, SSB, YWW |
| 43 | | Bowser Jr. | ATNGB, CRZL, CTTT, GM3, HW/HWL, MP10, SMM, SSB, YWW |
| 44 | | Olimar | ACASL+, ATNGB, CRZL, CTTT, GM3, HW/HWL, MK8, MP10, SMM, SSB, YWW |
| 45 | | Mr. Game & Watch | ATNGB, CRZL, CTTT, GM3, HW/HWL, MP10, SMM, SSB, YWW |
| 46 | | R.O.B. | ATNGB, CRZL, CTTT, GM3, HW/HWL, MP10, SMM, SSB, YWW |
| 47 | | Duck Hunt | ATNGB, CRZL, CTTT, GM3, HW/HWL, MP10, SMM, SSB, YWW |
Wave 7 (November 2015)
| № | Image | Name | Games compatible |
| --- | --- | --- | --- |
| 48 | | Mii Brawler | ATNGB, CRZL, CTTT, GM3, HW/HWL, MP10, SSB, YWW |
| 49 | | Mii Swordfighter | ATNGB, CRZL, CTTT, GM3, HW/HWL, MP10, SSB, YWW |
| 50 | | Mii Gunner | ATNGB, CRZL, CTTT, GM3, HW/HWL, MP10, SSB, YWW |
| 51 | | Mewtwo | ATNGB, CRZL, CTTT, GM3, HW/HWL, MP10, SMM, SSB, YWW |
| 52 | | Falco | ATNGB, CRZL, CTTT, GM3, HW/HWL, MP10, SFZ, SMM, SSB, YWW |
Wave 8 (January 22nd, 2016)
Wave 9 (March 18th, 2016)
Wave 10 (July 21st, 2017)
Wave 11 (December 7th, 2018)
Wave 12 (February 15th, 2019)
Wave 13 (April 12th, 2019)
Wave 14 (July 19th, 2019)
Wave 15 (September 20th, 2019)
Wave 16 (November 8th, 2019)
Wave 17 (January 17th, 2020)
Special Editions
| Image | Name | Games compatible | Release Date |
| --- | --- | --- | --- |
| | Mega Man - Gold Edition | ATNGB, CRZL, CTTT, GM3, HW/HWL, MK8, MMLC, MP10, SMM, SSB, YWW | February 23rd, 2016 |
amiibo x Super Mario series
Wave 1 (March 20, 2015)
| Image | Name | Games compatible |
| --- | --- | --- |
| | Mario (Super Mario) | ACASL+, ATNGB, CRZL, CTTT, GM3, HW/HWL, KPR, MK8, MLPJ, MP10, MTUS, SMM, SSB, YWW |
| | Luigi (Super Mario) | ACASL+, ATNGB, CRZL, CTTT, GM3, HW/HWL, MK8, MLPJ, MP10, MTUS, OPSGB, SMM, SSB, YWW |
| | Peach (Super Mario) | ACASL+, ATNGB, CRZL, CTTT, GM3, HW/HWL, KPR, MK8, MLPJ, MP10, MTUS, SMM, SSB, YWW |
| | Yoshi (Super Mario) | ATNGB, CRZL, CTTT, GM3, HW/HWL, MK8, MLPJ, MP10, MTUS, OPSGB, SMM, SSB, YWW |
| | Bowser (Super Mario) | ACASL+, ATNGB, CRZL, CTTT, GM3, HW/HWL, MK8, MLPJ, MP10, MTUS, SMM, SSB, YWW |
| | Toad | ATNGB, CRZL, CTTT, GM3, HW/HWL, MK8, MLPJ, MP10, MTUS, SMM, YWW |
Wave 2 (4th November 2016)
Wave 3 (6th October 2017)
№
Image
Name
Games compatible

Goomba

Koopa Trooper
Wave 4 (27th October 2017)
| № | Image | Name | Games compatible |
| --- | --- | --- | --- |
| | | Mario (Wedding Outfit) | |
| | | Peach (Wedding Outfit) | |
| | | Bowser (Wedding Outfit) | |
Special Editions
| Image | Name | Games compatible | Release date |
| --- | --- | --- | --- |
| | Mario - Gold Edition | ACASL+, ATNGB, CRZL, CTTT, GM3, HW/HWL, KPR, MK8, MLPJ, MP10, MTUS, SMM, SSB, YWW | March 20, 2015 |
| | Mario - Silver Edition | ACASL+, ATNGB, CRZL, CTTT, GM3, HW/HWL, KPR, MK8, MLPJ, MP10, MTUS, SMM, SSB, YWW | May 29, 2015 |
amiibo x Splatoon
Wave 1 (May 29, 2015)
| № | Image | Name | Games compatible |
| --- | --- | --- | --- |
| 1 | | Inkling Boy | ATNGB, CRZL, CTTT, GM3, HW/HWL, MP10, S, SMM, YWW |
| 2 | | Inkling Girl | ATNGB, CRZL, CTTT, GM3, HW/HWL, MP10, S, SMM, YWW |
| 3 | | Inkling Squid | ATNGB, CRZL, CTTT, GM3, HW/HWL, MP10, S, SMM, YWW |
Wave 2
 Wave 3 (21st July 2017)
| № | Image | Name | Games compatible |
| --- | --- | --- | --- |
| | | Inkling Boy | |
| | | Inkling Girl | |
| | | Inkling Squid | |
Wave 4 (13th July 2017)
| № | Image | Name | Games compatible |
| --- | --- | --- | --- |
| | | Pearl | |
| | | Marina | |
| | | | |
 Wave 5 (7th December 2018)
| № | Image | Name | Games compatible |
| --- | --- | --- | --- |
| | | Inkling (Super Smash Bros) | |
| | | Octoling Octopus | |
| | | Octoling Girl | |
| | | Octoling Boy | |
amiibo x Yoshi's Woolly World
Wave 1
| № | Image | Name | Games compatible |
| --- | --- | --- | --- |
| 1 | | Green Yarn Yoshi | ATNGB, CRZL, CTTT, GM3, HW/HWL, MK8, MLPJ, MP10, MTUS, OPSGB, SMM, SSB, YWW |
| 2 | | Light-blue Yarn Yoshi | ATNGB, CRZL, CTTT, GM3, HW/HWL, MK8, MLPJ, MP10, MTUS, OPSGB, SMM, SSB, YWW |
| 3 | | Pink Yarn Yoshi | ATNGB, CRZL, CTTT, GM3, HW/HWL, MK8, MLPJ, MP10, MTUS, OPSGB, SMM, SSB, YWW |
Wave 2
| № | Image | Name | Games compatible |
| --- | --- | --- | --- |
| 4 | | Mega Yarn Yoshi | ATNGB, CRZL, CTTT, GM3, HW/HWL, MK8, MLPJ, MP10, MTUS, OPSGB, SMM, SSB, YWW |
amiibo × Chibi-Robo
Wave 1 (Fall 2015 JP)
amiibo × Animal Crossing: Happy Home Designer
Wave 1 (September 25th, 2015)
| № | Image | Name | Games compatible |
| --- | --- | --- | --- |
| 1 | | Isabelle (ACHHD) | ACAF, ACHHD, ATNGB, CRZL, CTTT, GM3, HW/HWL, MP10, SMM |
| 2 | | Tom Nook (ACHHD) | ACAF, ACHHD, ATNGB, CRZL, CTTT, GM3, HW/HWL, MP10, SMM |
| 3 | | DJ K.K. | ACAF, ACHHD, ATNGB, CRZL, CTTT, GM3, HW/HWL, MP10, SMM |
| 4 | | Sable | ACAF, ACHHD, ATNGB, CRZL, CTTT, GM3, HW/HWL, MP10, SMM |
| 5 | | Kapp'n | ACAF, ACHHD, ATNGB, CRZL, CTTT, GM3, HW/HWL, MP10, SMM |
| 6 | | Resetti (ACHHD) | ACAF, ACHHD, ATNGB, CRZL, CTTT, GM3, HW/HWL, MP10, SMM |
| 7 | | Joan | ACAF, ACHHD, ATNGB, CRZL, CTTT, GM3, HW/HWL, MP10, SMM |
| 8 | | Timmy | ACAF, ACHHD, ATNGB, CRZL, CTTT, GM3, HW/HWL, MP10, SMM |
| 9 | | Digby (ACHHD) | ACAF, ACHHD, ATNGB, CRZL, CTTT, GM3, HW/HWL, MP10, SMM |
| 10 | | Pascal | ACAF, ACHHD, ATNGB, CRZL, CTTT, GM3, HW/HWL, MP10, SMM |
| 11 | | Harriet | ACAF, ACHHD, ATNGB, CRZL, CTTT, GM3, HW/HWL, MP10, SMM |
| 12 | | Redd | ACAF, ACHHD, ATNGB, CRZL, CTTT, GM3, HW/HWL, MP10, SMM |
| 13 | | Saharah | ACAF, ACHHD, ATNGB, CRZL, CTTT, GM3, HW/HWL, MP10, SMM |
| 14 | | Luna | ACAF, ACHHD, ATNGB, CRZL, CTTT, GM3, HW/HWL, MP10, SMM |
| 15 | | Tortimer | ACAF, ACHHD, ATNGB, CRZL, CTTT, GM3, HW/HWL, MP10, SMM |
| 16 | | Lyle | ACAF, ACHHD, ATNGB, CRZL, CTTT, GM3, HW/HWL, MP10 |
| 17 | | Lottie (ACHHD) | ACAF, ACHHD, ATNGB, CRZL, CTTT, GM3, HW/HWL, MP10, SMM |
| 18 | | Bob | ACAF, ACHHD, ATNGB, CRZL, CTTT, GM3, HW/HWL, MP10, SMM |
| 19 | | Fauna | ACAF, ACHHD, ATNGB, CRZL, CTTT, GM3, HW/HWL, MP10 |
| 20 | | Curt | ACAF, ACHHD, ATNGB, CRZL, CTTT, GM3, HW/HWL, MP10 |
| 21 | | Portia | ACAF, ACHHD, ATNGB, CRZL, CTTT, GM3, HW/HWL, MP10, SMM |
| 22 | | Leonardo | ACAF, ACHHD, ATNGB, CRZL, CTTT, GM3, HW/HWL, MP10 |
| 23 | | Cheri | ACAF, ACHHD, ATNGB, CRZL, CTTT, GM3, HW/HWL, MP10, SMM |
| 24 | | Kyle | ACAF, ACHHD, ATNGB, CRZL, CTTT, GM3, HW/HWL, MP10, SMM |
| 25 | | Al | ACAF, ACHHD, ATNGB, CRZL, CTTT, GM3, HW/HWL, MP10, SMM |
| 26 | | Renée | ACAF, ACHHD, ATNGB, CRZL, CTTT, GM3, HW/HWL, MP10, SMM |
| 27 | | Lopez | ACAF, ACHHD, ATNGB, CRZL, CTTT, GM3, HW/HWL, MP10 |
| 28 | | Jambette | ACAF, ACHHD, ATNGB, CRZL, CTTT, GM3, HW/HWL, MP10, SMM |
| 29 | | Rasher | ACAF, ACHHD, ATNGB, CRZL, CTTT, GM3, HW/HWL, MP10 |
| 30 | | Tiffany | ACAF, ACHHD, ATNGB, CRZL, CTTT, GM3, HW/HWL, MP10, SMM |
| 31 | | Sheldon | ACAF, ACHHD, ATNGB, CRZL, CTTT, GM3, HW/HWL, MP10, SMM |
| 32 | | Bluebear | ACAF, ACHHD, ATNGB, CRZL, CTTT, GM3, HW/HWL, MP10, SMM |
| 33 | | Bill | ACAF, ACHHD, ATNGB, CRZL, CTTT, GM3, HW/HWL, MP10 |
| 34 | | Kiki | ACAF, ACHHD, ATNGB, CRZL, CTTT, GM3, HW/HWL, MP10 |
| 35 | | Deli | ACAF, ACHHD, ATNGB, CRZL, CTTT, GM3, HW/HWL, MP10, SMM |
| 36 | | Alli | ACAF, ACHHD, ATNGB, CRZL, CTTT, GM3, HW/HWL, MP10, SMM |
| 37 | | Kabuki | ACAF, ACHHD, ATNGB, CRZL, CTTT, GM3, HW/HWL, MP10, SMM |
| 38 | | Patty | ACAF, ACHHD, ATNGB, CRZL, CTTT, GM3, HW/HWL, MP10 |
| 39 | | Jitters | ACAF, ACHHD, ATNGB, CRZL, CTTT, GM3, HW/HWL, MP10, SMM |
| 40 | | Gigi | ACAF, ACHHD, ATNGB, CRZL, CTTT, GM3, HW/HWL, MP10, SMM |
| 41 | | Quillson | ACAF, ACHHD, ATNGB, CRZL, CTTT, GM3, HW/HWL, MP10, SMM |
| 42 | | Marcie | ACAF, ACHHD, ATNGB, CRZL, CTTT, GM3, HW/HWL, MP10, SMM |
| 43 | | Puck | ACAF, ACHHD, ATNGB, CRZL, CTTT, GM3, HW/HWL, MP10, SMM |
| 44 | | Shari | ACAF, ACHHD, ATNGB, CRZL, CTTT, GM3, HW/HWL, MP10, SMM |
| 45 | | Octavian | ACAF, ACHHD, ATNGB, CRZL, CTTT, GM3, HW/HWL, MP10 |
| 46 | | Winnie | ACAF, ACHHD, ATNGB, CRZL, CTTT, GM3, HW/HWL, MP10, SMM |
| 47 | | Knox | ACAF, ACHHD, ATNGB, CRZL, CTTT, GM3, HW/HWL, MP10, SMM |
| 48 | | Sterling | ACAF, ACHHD, ATNGB, CRZL, CTTT, GM3, HW/HWL, MP10, SMM |
| 49 | | Bonbon | ACAF, ACHHD, ATNGB, CRZL, CTTT, GM3, HW/HWL, MP10, SMM |
| 50 | | Punchy | ACAF, ACHHD, ATNGB, CRZL, CTTT, GM3, HW/HWL, MP10, SMM |
| 51 | | Opal | ACAF, ACHHD, ATNGB, CRZL, CTTT, GM3, HW/HWL, MP10, SMM |
| 52 | | Poppy | ACAF, ACHHD, ATNGB, CRZL, CTTT, GM3, HW/HWL, MP10, SMM |
| 53 | | Limberg | ACAF, ACHHD, ATNGB, CRZL, CTTT, GM3, HW/HWL, MP10, SMM |
| 54 | | Deena | ACAF, ACHHD, ATNGB, CRZL, CTTT, GM3, HW/HWL, MP10, SMM |
| 55 | | Snake | ACAF, ACHHD, ATNGB, CRZL, CTTT, GM3, HW/HWL, MP10, SMM |
| 56 | | Bangle | ACAF, ACHHD, ATNGB, CRZL, CTTT, GM3, HW/HWL, MP10, SMM |
| 57 | | Phil | ACAF, ACHHD, ATNGB, CRZL, CTTT, GM3, HW/HWL, MP10, SMM |
| 58 | | Monique | ACAF, ACHHD, ATNGB, CRZL, CTTT, GM3, HW/HWL, MP10, SMM |
| 59 | | Nate | ACAF, ACHHD, ATNGB, CRZL, CTTT, GM3, HW/HWL, MP10, SMM |
| 60 | | Samson | ACAF, ACHHD, ATNGB, CRZL, CTTT, GM3, HW/HWL, MP10, SMM |
| 61 | | Tutu | ACAF, ACHHD, ATNGB, CRZL, CTTT, GM3, HW/HWL, MP10, SMM |
| 62 | | T-Bone | ACAF, ACHHD, ATNGB, CRZL, CTTT, GM3, HW/HWL, MP10 |
| 63 | | Mint | ACAF, ACHHD, ATNGB, CRZL, CTTT, GM3, HW/HWL, MP10 |
| 64 | | Pudge | ACAF, ACHHD, ATNGB, CRZL, CTTT, GM3, HW/HWL, MP10, SMM |
| 65 | | Midge | ACAF, ACHHD, ATNGB, CRZL, CTTT, GM3, HW/HWL, MP10, SMM |
| 66 | | Gruff | ACAF, ACHHD, ATNGB, CRZL, CTTT, GM3, HW/HWL, MP10, SMM |
| 67 | | Flurry | ACAF, ACHHD, ATNGB, CRZL, CTTT, GM3, HW/HWL, MP10, SMM |
| 68 | | Clyde | ACAF, ACHHD, ATNGB, CRZL, CTTT, GM3, HW/HWL, MP10, SMM |
| 69 | | Bella | ACAF, ACHHD, ATNGB, CRZL, CTTT, GM3, HW/HWL, MP10, SMM |
| 70 | | Biff | ACAF, ACHHD, ATNGB, CRZL, CTTT, GM3, HW/HWL, MP10, SMM |
| 71 | | Yuka | ACAF, ACHHD, ATNGB, CRZL, CTTT, GM3, HW/HWL, MP10, SMM |
| 72 | | Lionel | ACAF, ACHHD, ATNGB, CRZL, CTTT, GM3, HW/HWL, MP10, SMM |
| 73 | | Flo | ACAF, ACHHD, ATNGB, CRZL, CTTT, GM3, HW/HWL, MP10, SMM |
| 74 | | Cobb | ACAF, ACHHD, ATNGB, CRZL, CTTT, GM3, HW/HWL, MP10, SMM |
| 75 | | Amelia | ACAF, ACHHD, ATNGB, CRZL, CTTT, GM3, HW/HWL, MP10, SMM |
| 76 | | Jeremiah | ACAF, ACHHD, ATNGB, CRZL, CTTT, GM3, HW/HWL, MP10, SMM |
| 77 | | Cherry | ACAF, ACHHD, ATNGB, CRZL, CTTT, GM3, HW/HWL, MP10, SMM |
| 78 | | Roscoe | ACAF, ACHHD, ATNGB, CRZL, CTTT, GM3, HW/HWL, MP10 |
| 79 | | Truffles | ACAF, ACHHD, ATNGB, CRZL, CTTT, GM3, HW/HWL, MP10, SMM |
| 80 | | Eugene | ACAF, ACHHD, ATNGB, CRZL, CTTT, GM3, HW/HWL, MP10, SMM |
| 81 | | Eunice | ACAF, ACHHD, ATNGB, CRZL, CTTT, GM3, HW/HWL, MP10, SMM |
| 82 | | Goose | ACAF, ACHHD, ATNGB, CRZL, CTTT, GM3, HW/HWL, MP10 |
| 83 | | Annalisa | ACAF, ACHHD, ATNGB, CRZL, CTTT, GM3, HW/HWL, MP10, SMM |
| 84 | | Benjamin | ACAF, ACHHD, ATNGB, CRZL, CTTT, GM3, HW/HWL, MP10, SMM |
| 85 | | Pancetti | ACAF, ACHHD, ATNGB, CRZL, CTTT, GM3, HW/HWL, MP10, SMM |
| 86 | | Chief | ACAF, ACHHD, ATNGB, CRZL, CTTT, GM3, HW/HWL, MP10 |
| 87 | | Bunnie | ACAF, ACHHD, ATNGB, CRZL, CTTT, GM3, HW/HWL, MP10 |
| 88 | | Clay | ACAF, ACHHD, ATNGB, CRZL, CTTT, GM3, HW/HWL, MP10, SMM |
| 89 | | Diana | ACAF, ACHHD, ATNGB, CRZL, CTTT, GM3, HW/HWL, MP10, SMM |
| 90 | | Axel | ACAF, ACHHD, ATNGB, CRZL, CTTT, GM3, HW/HWL, MP10, SMM |
| 91 | | Muffy | ACAF, ACHHD, ATNGB, CRZL, CTTT, GM3, HW/HWL, MP10, SMM |
| 92 | | Henry | ACAF, ACHHD, ATNGB, CRZL, CTTT, GM3, HW/HWL, MP10, SMM |
| 93 | | Bertha | ACAF, ACHHD, ATNGB, CRZL, CTTT, GM3, HW/HWL, MP10, SMM |
| 94 | | Cyrano | ACAF, ACHHD, ATNGB, CRZL, CTTT, GM3, HW/HWL, MP10 |
| 95 | | Peanut | ACAF, ACHHD, ATNGB, CRZL, CTTT, GM3, HW/HWL, MP10 |
| 96 | | Cole | ACAF, ACHHD, ATNGB, CRZL, CTTT, GM3, HW/HWL, MP10, SMM |
| 97 | | Willow | ACAF, ACHHD, ATNGB, CRZL, CTTT, GM3, HW/HWL, MP10, SMM |
| 98 | | Roald | ACAF, ACHHD, ATNGB, CRZL, CTTT, GM3, HW/HWL, MP10, SMM |
| 99 | | Molly | ACAF, ACHHD, ATNGB, CRZL, CTTT, GM3, HW/HWL, MP10, SMM |
| 100 | | Walker | ACAF, ACHHD, ATNGB, CRZL, CTTT, GM3, HW/HWL, MP10, SMM |
Wave 2 (January 22nd, 2016)
Wave 3 (March 18th, 2016)
Wave 4 (June 10th, 2016)
amiibo × Animal Crossing: amiibo Festival
Wave 1 (November, 2015)
| № | Image | Name | Games compatible |
| --- | --- | --- | --- |
| 1 | | Isabelle (Animal Crossing: amiibo Festival) | ACAF, ACHHD, ATNGB, CRZL, CTTT, GM3, HW/HWL, MP10, SMM |
| 2 | | K.K. Slider (ACAF) | ACAF, ACHHD, ATNGB, CRZL, CTTT, GM3, HW/HWL, MP10, SMM |
| 3 | | Lottie (ACAF) | ACAF, ACHHD, ATNGB, CRZL, CTTT, GM3, HW/HWL, MP10, SMM |
| 4 | | Reese | ACAF, ACHHD, ATNGB, CRZL, CTTT, GM3, HW/HWL, MP10, SMM |
| 5 | | Cyrus | ACAF, ACHHD, ATNGB, CRZL, CTTT, GM3, HW/HWL, MP10, SMM |
| 6 | | Tom Nook (ACAF) | ACAF, ACHHD, ATNGB, CRZL, CTTT, GM3, HW/HWL, MP10, SMM |
| 7 | | Mabel | ACAF, ACHHD, ATNGB, CRZL, CTTT, GM3, HW/HWL, MP10, SMM |
| 8 | | Digby (ACAF) | ACAF, ACHHD, ATNGB, CRZL, CTTT, GM3, HW/HWL, MP10, SMM |
Wave 2 (January 22nd, 2016)
| № | Image | Name | Games compatible |
| --- | --- | --- | --- |
| 9 | | Resetti | ACAF, ACHHD, ATNGB, CRZL, CTTT, GM3, HW/HWL, MP10, SMM |
| 10 | | Blathers | ACAF, ACHHD, ATNGB, CRZL, CTTT, GM3, HW/HWL, MP10, SMM |
| 11 | | Kicks | ACAF, ACHHD, ATNGB, CRZL, CTTT, GM3, HW/HWL, MP10, SMM |
| 12 | | Celeste | ACAF, ACHHD, ATNGB, CRZL, CTTT, GM3, HW/HWL, MP10, SMM |
Wave 3 (March 18th, 2016)
Wave 4 (June 10th, 2016)
amiibo × Super Mario Maker
Wave 1 (September 11, 2015)
| № | Image | Name | Games compatible |
| --- | --- | --- | --- |
| | | 8-Bit Classic Mario | ACASL+, ATNGB, CRZL, CTTT, GM3, HW/HWL, KPR, MK8, MLPJ, MP10, MTUS, SMM, SSB, YWW |
| | | 8-Bit Modern Mario | ACASL+, ATNGB, CRZL, CTTT, GM3, HW/HWL, KPR, MK8, MLPJ, MP10, MTUS, SMM, SSB, YWW |
amiibo × Skylanders: SuperChargers
Wave 1 (September 20, 2015)
| № | Image | Name | Games compatible |
| --- | --- | --- | --- |
| | | Turbo Charge Donkey Kong | ACASL+, ATNGB, CRZL, CTTT, GM3, HW/HWL, MK8, MP10, OPSGB, SMM, SSB, SSC, YWW |
| | | Hammer Slam Bowser | ACASL+, ATNGB, CRZL, CTTT, GM3, HW/HWL, MK8, MLPJ, MP10, SMM, SSB, SSC, YWW |
Dark Editions
| № | Image | Name | Games compatible |
| --- | --- | --- | --- |
| | | Dark Turbo Charge Donkey Kong | ACASL+, ATNGB, CRZL, CTTT, GM3, HW/HWL, MK8, MP10, OPSGB, SMM, SSB, SSC, YWW |
| | | Dark Hammer Slam Bowser | ACASL+, ATNGB, CRZL, CTTT, GM3, HW/HWL, MK8, MLPJ, MP10, SMM, SSB, SSC, YWW |
amiibo × Shovel Knight
Wave 1
Wave 2 (April 9th, 2019)
| № | Image | Name | Games compatible |
| --- | --- | --- | --- |
| | | Plague Knight | |
| | | Specter Knight | |
| | | King Knight | |
amiibo × The Legend of Zelda
Wave 1 (March 4th, 2016)
Wave 2 (December 2nd, 2016)
| № | Image | Name | Games Compatible |
| --- | --- | --- | --- |
| | | Link (Ocarina of Time) | TLZBOTW |
| | | 8-Bit Link | TLZBOTW |
| | | Toon Link (The Wind Waker) | TLZBOTW |
| | | Zelda (The Wind Waker) | TLZBOTW |
Wave 3 (March 3rd, 2017)
Wave 4 (June 23rd, 2017)
№
Image
Name
Games Compatible

Link (Majora's Mask)
TLZBOTW

Link (Skyward Sword)
TLZBOTW